M I N T–Coming May 27, 2016
Lexi Steele began as a jewel thief in Seattle. Brave, clever and a little reckless, she defied the status quo while satisfying her hunger for an adrenaline high. When a high-rise diamond heist went wrong, she promised herself to stick to retrieving unclaimed gold, which was less likely to lead to violent situations.
Did she sentence herself to a boring life? Hardly. She now trots around the globe, seeking lost treasure of the world. There's just one problem. As exciting as her life is, she has no one to share it with.
James Ashton, her chief rival in the business, would love to fix this problem for her. Too bad they have been competing in the same field for almost a decade. Granted, they've been flirting for almost that whole time, but at the end of the day, business has always been business.
When Lexi discovers that she needs a man to help her deal with locals in Haiti, she makes a somewhat reluctant offer to split the take with him in return for a temporary partnership. Is the implausible partnership doomed from start, or will they cooperate and learn to work together?
When events take a turn for the worse, she and James must rely on each other to escape back to the States with the gold. Do they lay aside their differences and fight to succeed or do they push each other away and end in failure?
This is BOOK 1 in the Love of Thieves series. Contains sex and violence–for adults only.
Interview with Author Blue Davis–April 2016
Who is the female main character?
This isn't your typical damsel-in-distress story. Lexi is like a cross between Tomb Raider's Lara Croft and Letty from The Fast & the Furious. She is cunning and street-smart and is not to be underestimated.
Who is the male main character?
He's a hottie–muscle-bound, smooth-talking. He's trouble.
Is this a series or stand-alone?
This is the first book in the Love of Thieves series. I'm a huge fan of family sagas, so put your seat belt on, you're going on a long roller coaster ride.
What is the steam level?
It's all the way. Super caliente, mind-blowing sex.
What type of book can a reader expect?
This is a BWWM (black women, white men) interracial romance for your Kindle, with a hint of humor and a satisfying ending. It's suspenseful, sexy, and contains some really cool fight scenes. Enjoy!
I T U N E S        A M A Z O N          N O O K         K O B O
---

Winter's Last Dance
Winter Monroe isn't your average ballerina. She's strong, she's confident, and… she's black.
She is an African-American student who attends the Moskvina Ballet Academy in Moscow. Her biggest dream is to grace the stage with legendary Russian ballet dancers and she has worked her entire life just to be able to be trained by the best.
Will she actualize her dream of dancing on stage with the Company, or will she remain a starving student, forever longing to be a world-class ballerina?
Nikolai Vasilek's sole desire is to leave the life of crime behind. His wife was killed last year, due to his own negligence. He's had it. He's done with it all. He wants to check out of Russia, and find a small oasis in Croatia or Greece, where he can spend the rest of his life in solitude.
However, a friend is in peril and calls for help. Nikolai reluctantly commits to a single task. His job is to steal the ballerina and keep her locked away for three days, no questions asked.
Will he succeed in kidnapping her for the duration of the job? Further, will Nikolai be able to control his urges around the limber ballerina, or will he succumb to her curves and screw the job up, forfeiting his chances of ever leaving the treacherous mafia life behind?
WARNING: This is a fast-paced story that contains elements of sex and violence. For adults only. 
Interview with Blue Davis
Why did you choose to have the main character be a black ballerina?
I love the story of Misty Copeland. She is a phenomenal dancer that has raised our level of awareness to support black ballerinas in their quest to succeed on a stage where only whites have traditionally performed. I had always been a fan of ballet, but I didn't even realize race and discrimination was an issue in the ballet world until I saw something on Facebook one day. Then I started researching about her and others. She is an inspiration to young black women everywhere.
Why is the story set in Russia?
Because it's fun to go abroad with the story. And where else would we go, but Russia? Russians are world-renown for their remarkable contribution to ballet, and I think it's interesting to have a black American woman come over and walk in on their turf. The whole story is completely fictional of course, but it is so intriguing to imagine the types of conflicts that could occur.
Does this book contain sex or violence?
Yes. This is a fast-paced interracial romance book (BWWM or black women white men) for Kindle that contains both sex and violence. It is very steamy, so please be ready for that.
Is it series or stand-alone?
This is a stand-alone novel that contains no cliffhangers.
Please enjoy and thank you for reading!
I T U N E S           A M A Z O N             N O O K             K O B O
---

Backtrack: An Amnesia Romance
Her
Memories are jewels of the privileged.
I don't know the good times or the bad. I only know the here and now.
My surroundings bear no resemblance to me.
He swore a hundred times he knows nothing of my past. Can I trust him?
How did I get here? More importantly, where did I come from?
I need answers.
I need to find home.
Him
My life has been turned upside down since that day I found her in the snowy woods.
I don't know where she came from, but I do know she came into my life for a reason.
She is a good woman, fit to be a decent mother to my three boys.
The cabin is brighter since she got here.
I want her to stay.
WARNING: This is a fast-paced story that contains elements of sex and violence. Please be 18+.
Q & A with Author Blue Davis
Where does the story take place?The story mostly takes place in Lapland, Sweden. This is a mountainous area of Northern Sweden. It is home to the Ice Hotel and Northern Lights. It is arctic, Nordic, and close to the North Pole. It is also home to indigenous Scandinavians.
Why Sweden?
I think it's interesting to have a black American girl wake up in a place that is so far from home that there's not a single person that looks like her or has any idea where she came from. She has amnesia in a big way. There is major contrast between the way she looks and the way the bright-haired locals appear, and she searches endlessly to find out the reason why she has ended up there. This is a good examination of whether love between a black woman and a white man can transcend race and culture. If you woke up tomorrow and had no past, would you still choose the same or similar partner? This is not your everyday interracial BWWM romance. It takes a closer look at the phenomenon of love. How can two people from two different sides of the world fall in love?
Is this a series or stand-alone?
This is a fast-paced, suspenseful stand-alone novella. I don't plan on making it a series, unless it's super-duper popular and at least one person begs me.
What's the steam-level?
All the way. It's hot and also has a lot of good, underlying sexual tension.
Why is this book free?
To give people a taste of some of my work. My hope is that you keep coming back.
i T U N E S           A M A Z O N            N O O K             K O B O
---

The Billionaire's Waitress 1
Nia Jones could tell you a few things about men: they hurt, they lie, and they'll do anything to cheat their way into your heart.
Nia Jones is an independent black woman who survived abuse from her ex back in Long Beach. Now she lives in Houston, where she cares for her grandmother and attends college. The last thing she needs is a man weighing her down.
She meets Jake Carlton, a restaurant patron at the steakhouse where she works. A sexy, suave businessman from Tanglewood, Jake takes her into an enchanting world studded with diamonds, pearls, and fast cars.
But does he truly love her, or is it just a game to conquer and control her heart?
When Jake introduces her to family and friends, she quickly learns how unwelcome she is, and finds herself entangled in a web of broken trust. She must make a choice of whether to stand and defend her love or to face defeat and be sworn to a life without Jake.
Will she learn to hold her own in a woven tale of love, sex, and deceit or will she destroy the bond that binds them?
This is Part 1 of The Billionaire Waitress Series.
WARNING: This is a fast-paced story that contains elements of erotic sex and violence. Please be 18+.
i T U N E S             A M A Z O N              N O O K                K O B O
---
 The Billionaire's Waitress 2
Nia Jones has fallen for the one man who could take her heart and shatter it to pieces.
Nia Jones has moved from Long Beach to Houston to attend college and care for her grandmother. Her abusive ex-boyfriend has trekked all the way from California to track her down.
What the ex doesn't know is that billionaire Jake Carlton is the sole owner of Nia's heart.
However, Jake is sworn to another woman through a pregnancy mishap.
Will Jake and Nia ever learn to love or will they be haunted forever by their past mistakes?
In a strange twist of fate, the abusive ex winds up at the billionaire's Tanglewood mansion. A Texas-style showdown occurs, in which there is only one victor.
Will they be able to seal their future together or will they be overpowered by a disasterous sequence of troublesome events?
This is Book 2 of the Billionaire's Waitress Series.
WARNING: This is a fast-paced story that contains elements of erotic sex and violence. Please be 18+.
---

 The Billionaire's Waitress 3
Is a man worth dying for?
Nia Jones is a strong black woman who has just been asked to marry by one of the richest bachelors in the world.
He invites her to vacation on a mysterious tropical island. Everything seems picture-perfect.
However, things take a turn for the worse when she receives a call from home.
She discovers that not everyone is so excited about the prospect of marriage. In fact, a group of people would rather see her dead.
Will Jake and Nia risk building a dynasty of their own, or will they break it off and decide that each other's lives are just too precious to lose?
This is Part 3, the finale of The Billionaire's Waitress saga.
WARNING: This is a fast-paced story that contains elements of erotic sex and violence. Please be 18+.
---
 The Billionaire's Waitress at Christmas
Nia thought she had it all–a baby, a billionaire, and an island mansion in Fiji.
When her man, Jake needs to leave for a sudden business trip, Nia is left to fend for herself in a world of uncertainty.
Will she prove she can take care of the billion-dollar dynasty without him?
When her friend takes her on a diving trip, she returns to find her life in shambles.
Will Jake return in time to help her pick up the pieces or will he choose business over family and leave Nia to suffer the consequences?
This is a stand-alone BONUS short story within The Billionaire's Waitress series.
WARNING: This is a fast-paced story that contains elements of sex and violence. Please be 18+.
---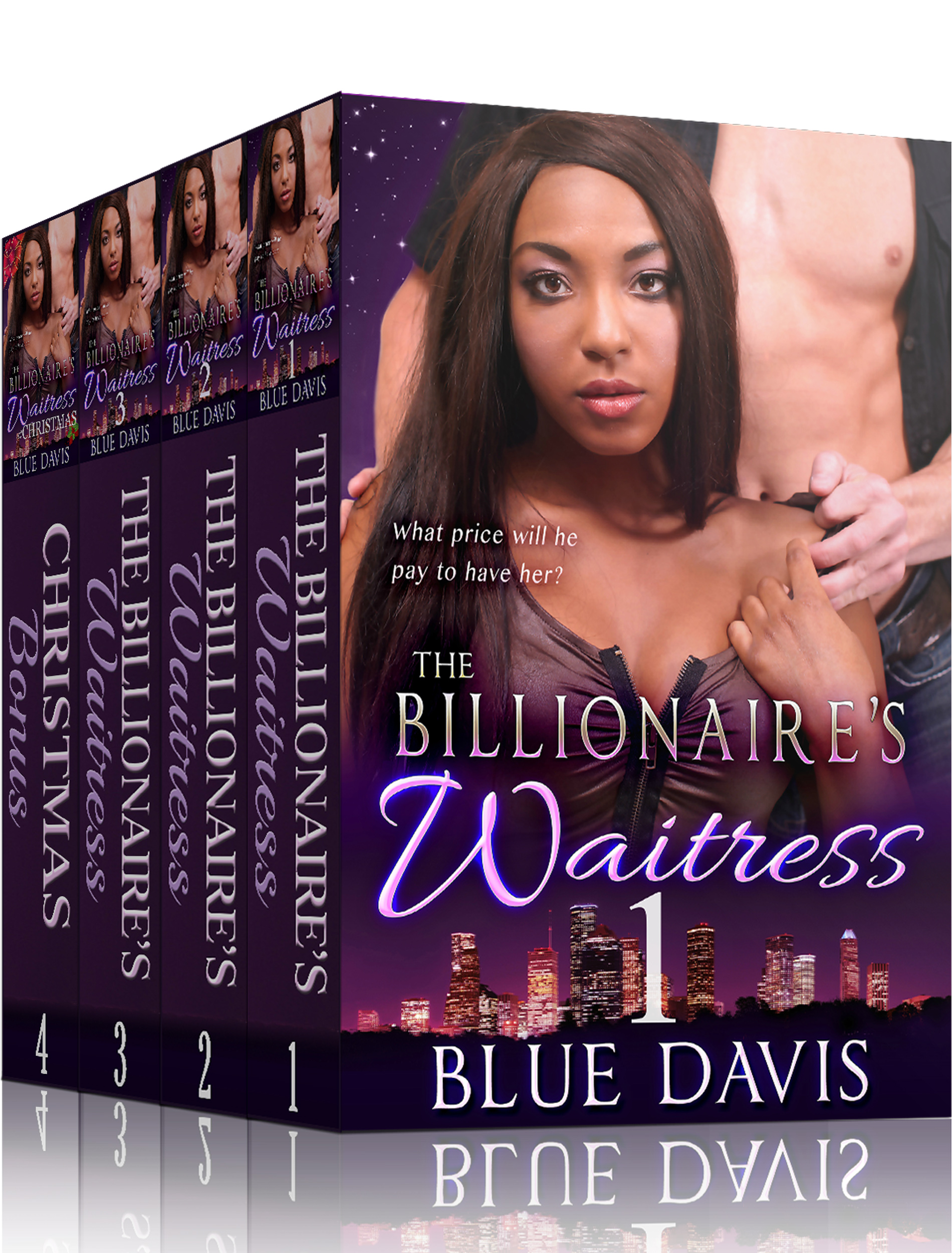 The Billionaire's Waitress Holiday Box Set
Buy The Billionaire's Waitress 1, 2, 3, and BONUS Christmas Story in one holiday box set and save money.
---
 
Love in Transit
Clover is:
1. Smart
2. Capable
3. Falling for One of the Most Dangerous Men in Russia
Clover is a geeky history teacher from Los Angeles, who travels halfway around the world to take a once-in-a-lifetime trip on the Trans-Siberian Railway.
She runs into Dimitri Rozovsky …the hottest man-machine on the train. Sexy and dangerous, Dimitri shows her an adventurous world she's never
seen before. Only problem is, he is a deadly strike force for the Russian Mafia.
Will Clover learn to love Dimitri's dangerous side, or will she return to her "safe" school teacher life?
When Clover accidentally walks in on a brutal human trafficking ring, her life is turned upside-down.
Will Dimitri be able to keep her safe or will his reckless habits spin out of control?
This is a Stand-Alone book and contains no cliffhanger.
WARNING: This is a fast-paced story that contains elements of erotic sex and violence. Please be 18+.
i T U N E S           A M A Z O N            N O O K            K O B O